Wondering what makes Velocitii such a great place to work? Well, the people of course. Welcome to the Velocitii Team interview series. We are proud to introduce you to some of the amazing people we get to work with everyday.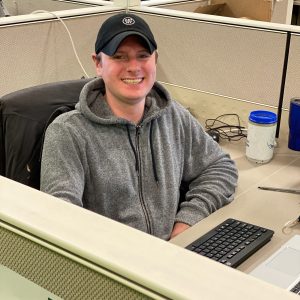 What do you do at Velocitii and what brought you to our team? I am currently an IT Help Desk specialist at Velocitii. After being interviewed and witnessing the atmosphere of the place it really enticed me to become a part of the team.
Have you added to your skills while at Velocitii? If so what are they and how will they benefit you in the future? It has been a wonderful learning experience from the beginning. From starting on a Federal Health Insurance program and learning a plethora about insurance and the systems; and eventually transitioning to IT. I gained very useful knowledge sets.
I was most intrigued about learning the back-end management and maintenance from an IT side perspective. There is always something to learn each day which really draws me to the culture.
What makes you a great team-mate? I try to bring a positive attitude and a smile to work each day (which is never difficult by the way). I love being a team player and am always willing to offer any help I can. Negativity generally rolls off my back, I perform my duties to the best of my ability while maintaining an optimistic view. Perspective is always key. 
What advice do you have for job seekers looking to join Velocitii? If you're willing to learn, absorb, and perform the best you can you'll fit right in. Management and staff are extremely knowledgeable and helpful. They're always willing to provide additional training or resources for you to succeed.
Think you are a great fit for the Velocitii Team? We would love to hear from you. Interested in hearing more about how Velocitii's Client Solutions can help your company grow and thrive? Let's talk.