Wondering what makes Velocitii such a great place to work? Well, the people of course. Welcome to the Velocitii Team interview series. We are proud to introduce you to some of the amazing people we get to work with everyday.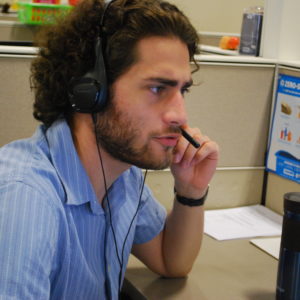 What do you do at Velocitii and what brought you to our team? I've worked for Velocitii for two months now as a customer service representative for a Service Industry team. I heard about Velocitii through my mother who is a small business owner in Medina.
Have you added to your skills while at Velocitii? If so what are they and how will they benefit you in the future? I believe that working at Velocitii has definitely improved my ability to multitask. Navigating the various computer programs necessary to facilitate customer requests was intimidating at first. However, the more I've worked with these channels the more efficient I've become, and now I feel pretty confident in my ability to quickly traverse them. Communication has also been a key skill. 99% of my job is talking to people on the phone. Most are pleasant, but some can be frustrated and take that out on me. Knowing the correct way to handle these situations to deescalate and provide the best service possible for customers is a puzzle that I'm always eager to solve. Knowing how to talk to people and manage your time are both invaluable skills in any career, and I am happy to be nurturing them here.
What secret skills do you have that you are looking forward to using at Velocitii in this or other roles? I went to school to study English and Communication, and I feel that they have given me a strong grasp of language and communication concepts. I look forward to being able to apply my knowledge in these fields toward marketing and sales efforts in the future, if given the opportunity.
What makes you a great team-mate? I believe that my ability to communicate clearly and my respect for my coworkers makes me a great team-mate. Whenever I reach out to a coworker for assistance, or if one reaches out to me, I always ensure that I respect their time and interact with them in a timely and polite manner. I know that we're all trying to do the same job and give our customers the best service possible, and I find that that's easier to achieve when you have team-mates that indulge in an atmosphere of mutual respect.
What career goals do you see for yourself at Velocitii? I would love to branch out into marketing or sales at Velocitii, so I would say that my most immediate career goal would be to become a part of that department.
At work, at home over the past few months, have you learned any important lessons about yourself- and if so, what are they? Over the past few months one of the biggest lessons I've learned is to be patient with the development of my career goals. As a recent college graduate, I am eager to get out and make my mark on the world. However, I understand that success is not achieved overnight or by one merit; rather, it is through many small achievements over time. I'm beginning to better understand that it's alright to be patient in the pursuit of my goals, and to take the time necessary to develop skills and relationships that will assist me further in the future.
What advice do you have for job seekers looking to join Velocitii? To people looking to join Velocitii, I would advise to not let yourself get overwhelmed early on. The supervisors and coworkers are always ready and willing to help each other out with any problem big or small, and they understand that as a newer member there will be a learning curve. Their job is to help you leap over that curve, and they excel at it.
Think you are a great fit for the Velocitii Team? We would love to hear from you. Interested in hearing more about how Velocitii's Client Solutions can help your company grow and thrive? Let's talk.