Wondering what makes Velocitii such a great place to work? Well, the people of course. Welcome to the Velocitii Team interview series. We are proud to introduce you to some of the amazing people we get to work with everyday.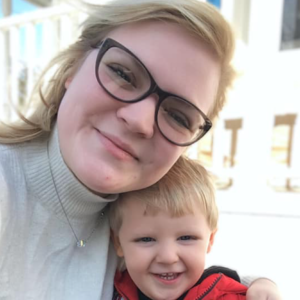 How long have you worked at Velocitii? My first day at Velocitii was May 16, 2016. So I am currently working on year 5. I had been running kitchens/cafes for 5 years before finding Velocitii. I was ready for a change of pace.
What positions have you had at Velocitii? I was hired for a temporary position for a summer project for one of clients. After falling in love with the line of work and the client, I quickly decided I wanted to become a permanent employee. After securing my permanent spot on the team, I moved into the role of team lead and eventually supervisor. From there, I've moved up from being a supervisor of only 1 program with 6-14 people depending on the time of year, to a supervisor of 5 different programs with over 30 people.
Did you learn different skills in each role?
Every role at Velocitii has taught me very different things. Both work and integrity wise. I never knew what an amazing program excel was. I've learned how to deal with people from all different lifestyles and all different types of clients. I've learned so much from Michele and Ian that I can take with me to wherever I go from here and that's really invaluable.
How has working in different roles at Velocitii impacted your career?
Starting out at bottom of the totem pole impacted me greatly as I moved into a role of leadership here. It gave me a perspective I wouldn't have had otherwise. It gave me a sense of ownership for my work. That what I choose to do with my day isn't just an impact on me, but my team as well. And it makes me more apt to get right in the trenches with them as well. So that they know they can trust me as a leader that I'm not just going to stand there and watch, but actually be an ally for them as well.
Have you learned important lessons about yourself?
I've learned patience – first and foremost. Working in the restaurant industry, you ask or are asked for things and expect immediate responses. In an office, things are just as stressful but we all work at our own pace – even with deadlines. I've learned humbleness. The successes of the team are just that – successes of the team. You can be proud, but without them, it isn't possible. And lastly, I've learned to be myself, trust myself and don't let others opinions about you sway you in your decisions. I got to where I am by being my quiet and unassuming self. At the end of the day, I can sleep soundly knowing that I did not have to jeopardize my own integrity and the trust of my teams or colleagues to get to the position of leadership that I am in. Velocitii has been a very accepting work place and has embraced me the way that I am.
What else do you want m I started at Velocitii when I was just 23 years old and hadn't never worked in a professional office setting. Since 2016, Velocitii has been by my side as I essentially grew up. I was able to buy my first house, had a child (my water broke right at my desk!) and the work/home life balance has allowed me to take care of anything that life has thrown at me since. We don't say it lightly when we say we are a family here. The friendships and bonds formed here are real and make it easy to come to work everyday. Take the chance.
Think you are a great fit for the Velocitii Team? We would love to hear from you.