Leading a company through growth can be overwhelming at times, especially if your business is growing quickly. You find yourself wearing too many hats and before you know it, handling the day to day operations has hindered your ability to effectively lead the business strategically. At this point, you're probably trying to figure out how to delegate some of this work without adding labor costs. That is where outsourcing comes in.
It is often assumed that Outsourcing equates to hiring workers from outside the country, which comes with compromises. But Outsource does not equal offshore, there are onshore, domestic options as well. Additionally, there are a vast array of business activities that can be outsourced including lead generation, back office support, customer care and outbound calling. Outsourcing services can save companies time and money while enhancing the overall customer experience!
Onshore vs. Offshore Outsourcing
Now that you're thinking about outsourcing, one of the big questions you may have is, should I outsource onshore or offshore? There are benefits to both, the trick is determining which is right for you and your company. Take a look at the graphic below to see a few of the differences between onshore and offshore outsourcing.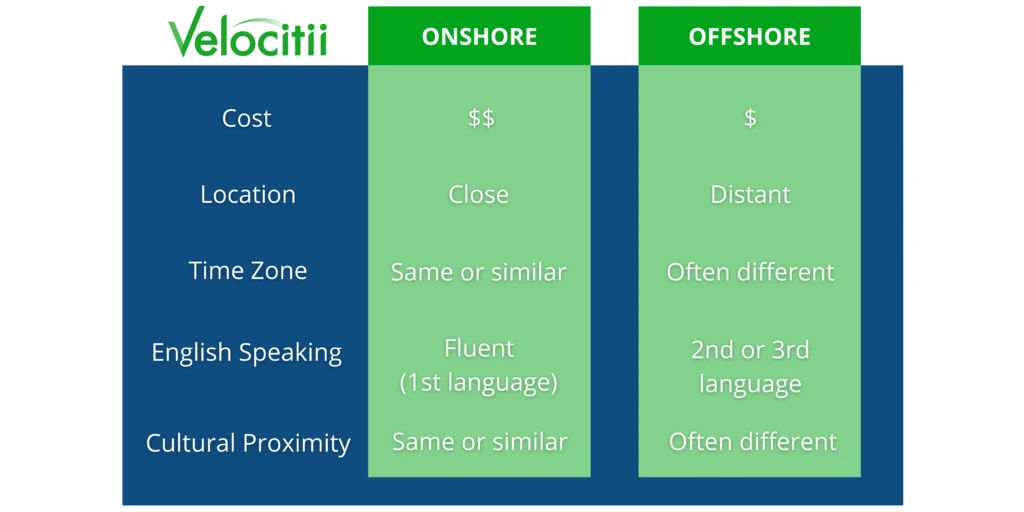 Level of service considerations:
The next important decision factor is the type of service you want to provide to your customers. This is a critical decision as it impacts the type of outsource partner you pursue.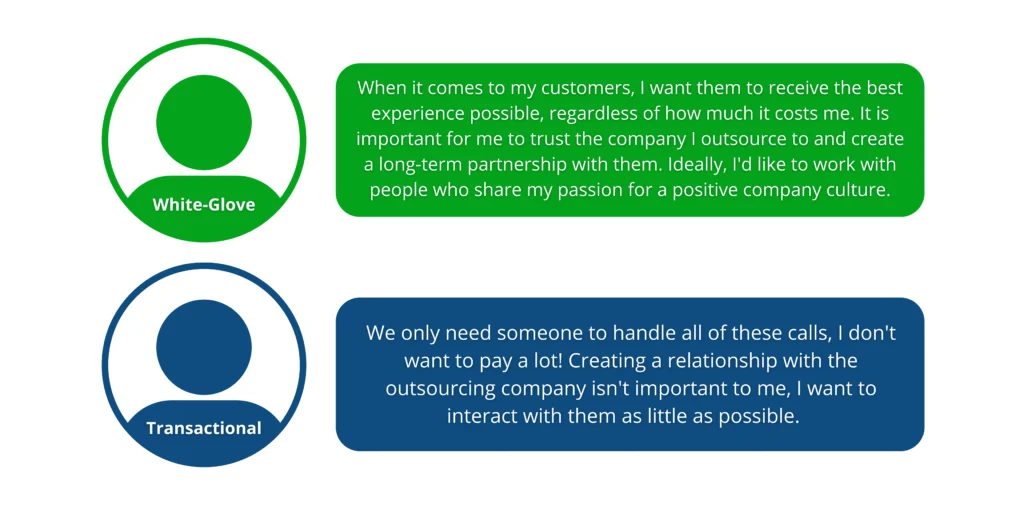 If your values closely align with the first profile, partnering with an onshore outsourcing company like Velocitii would be right for you. If you found yourself closely aligned with the second profile, then a transactional outsourcing company may work the best for your needs.
Advantages of onshore outsourcing
There are so many advantages to outsourcing to an onshore BPO company, here are just a few!
Messages and instructions can be responded to quickly by partners in a similar time zone
Having similar cultural values and no language barriers will reduce misunderstandings and maximize efficiency
Many customers prefer products from their home country, the same can be said about support and business services
Compliance with U.S. laws and regulations when it comes to data security
Outsourcing during an economic downturn is key
There can be opportunities for bold decisions when the economy is heading in a downward spiral. In a competitive environment where others are contracting and recalibrating, there are some levers that can spur explosive growth. Among these levers is outsourcing!
A few of the main benefits are::
The ability to reduce the overhead costs of your company.
Avoiding the hassle of scaling up or ramping down, because you only pay for what you need.
Having more time to focus on your core competencies, giving yourself and your company time to breathe.
Less stress and potentially better benefits for your current employees.
Onshore outsourcing solutions can revolutionize the way you do business!
Our VP of Sales, Brian O'Neill, has been quoted saying "For today's companies, outsourcing is about collaborating with partners in the marketplace to integrate services that they cannot quickly execute on their own, as a means of innovating, transforming, propelling growth, and unnerving their competitors."
The value of outsourcing with Velocitii includes the ability to:
Solve capacity and attrition issues
Enhance the customer experience
Gather real-time, actionable insights
Focus on your core business
Enable transformational change
A perfect example of the results you can expect!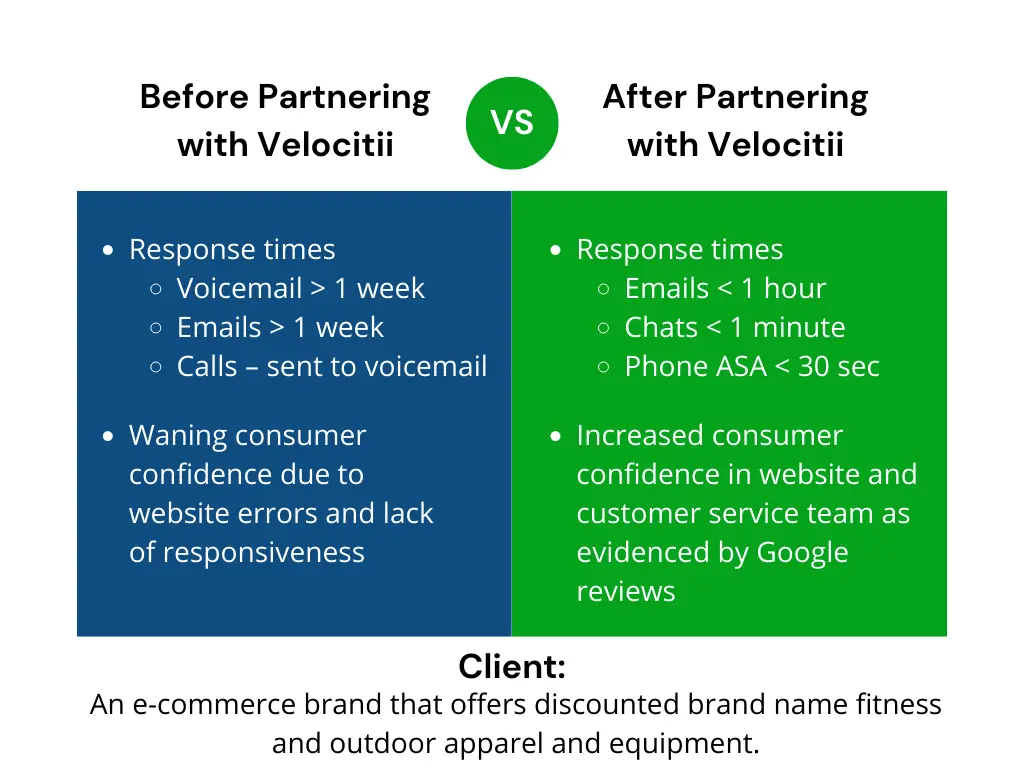 According to Forrester's US 2022 Customer Experience Index, nearly 20% of Brands saw a drop in customer experience quality and overall customer satisfaction has dropped to its lowest level in 17 years. NOW is the perfect time to outsource to Velocitii and be one of the brands in 2023 that set themselves apart with exceptional customer service.
How to get started!
Lucky for you, you're in the right place! To get started you can fill out the form on the Contact Us page or give us a call at (855) 702-5874 and select "Sales" when prompted. It's the perfect time to utilize Velocitii's professional Customer Service model and talent to best serve your loyal customer base! A brief focused conversation will allow us to talk about your unique business needs and tailor a solution just for you!
Learn more: https://velocitii.com/get-started/